Outdoor Vinyl Banners work well for a variety of occasions and events.
Have you noticed outdoor banners along streets, in front of businesses? They provide a friendly, cheerful look to the neighborhood.Businesses use custom outdoor vinyl banners to advertise products and services.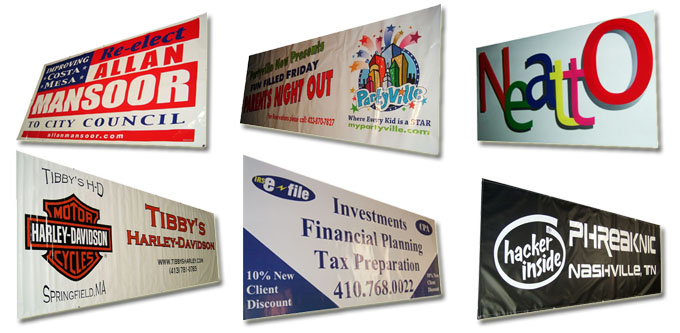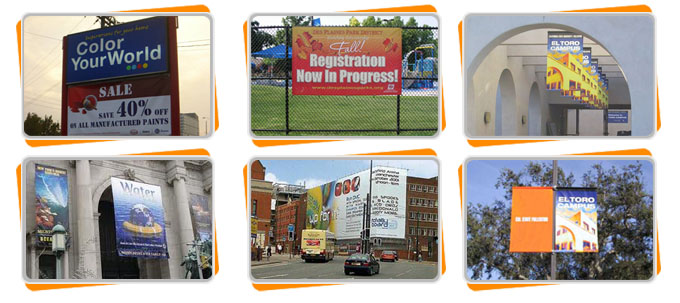 Vinyl banners are Custom printed banners in full color on Outdoor durable 13 oz scrim vinyl banner material, direct from your custom design art file. We offer large selection of standard banner sizes to choose from, in addition we also offer custom banner printing sizes.
Vinyl banners are a highly effective, high impact and attention grabbing advertising tool and is proven to turn heads and drive more traffic, specially full color printed banners. All banners are printed digitally in full color allowing you to include photos, color text, color logo and any designs. We make bannersusing highly durable scrim vinyl banner materials and printing banners with UV and fade resistant inks. Banner Printing, banner making, custom vinyl banner printing and ordering banners online! See below for custombanner price calculator and select the desired banner size.
All banners include the following features:

• Weather proof, can be displayed outdoors or indoors.
• Double hems all 4 sides. Ready to hang grommets placed
• High Quality 13 OZ, Glossy Vinyl Banner Material
• Fast production , No set fees.
• No minimum quality demand.




There are a lot of ways to go about advertising today. Some ways have a larger audience, while other ways might have more of an impact on a smaller group. Vinyl Banners fall in the latter category, and are definitely making a big impact in the market. Despite being around for a long time, they have been continuallychanging and being updated to be a competent option even in the 21st century. After all, without outdoor banners, the streets are going to look very ordinary and all you will see are rows of dull buildings that are not as pleasing for the eyes.
Today, modern vinyl banners have a lot that goes into getting made from start to finish. Firstly, you should be aware of the fact that these banners are made with a single printer which can print the banner from start to finish in one go. This provides a truly brilliant finish that is comparable to other forms of advertising. It is special for the fact that you can get an even finish and don't have to worry too much about the quality, as it isdefinitely going to be on the positive side.
Even the canvas that the prints occur on has improved since its inception. Although it remains essentially the same, some small things have changed. For starters, the size of the vinyl canvas has definitely changed. Today's banners are pretty massive and can show a lot more than before. In fact, there have been vinyl banners that are so massive that they end up taking up one entire side of the building. These are specially designed banners and have some difference when compared to the usual banners. In fact, the canvas itself is different, as these banners have to deal with a lot of wind resistance and other factors associated with the environment.
Additionally, these banners can also be customized according to your needs. Some people insist to print theentire banner at once. While this is possible with the use of a special printer, it is not the only option that there is. There are other ways of printing these banners too, and one should be wise while choosing the method to print. In fact, many modern printers today are capable of printing a lot of graphics in a relatively short period of time. Since all the techniques are computer controlled, the effort required to produce a banner has gone down significantly.
Furthermore, these banners need not be hand printed anymore as it is possible to get pretty much any kind of style done with minimal help these days. Moreover, the amount of effort needed to get a vinyl banner handmade is not worth the effort. There might be issues with uniformity and with larger sizes; you have to also take into account the factor of getting tired and other human errors that you are better off avoiding. Thus, all that is required to do is to just go into one of the companies that offer these services and specify them the kind of banner you need and then that's it!